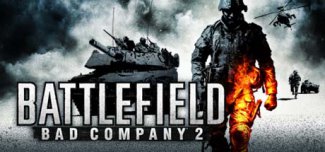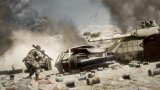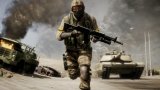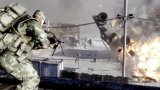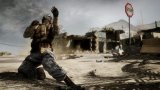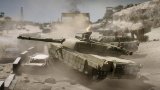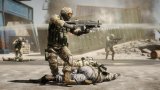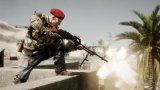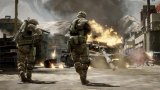 Windows


Battlefield: Bad Company 2 brings the award-winning Battlefield gameplay to the forefront of PC gaming with best-in-class vehicular combat and unexpected "Battlefield moments."

New vehicles like the ATV and a transport helicopter allow for all-new multiplayer tactics on the Battlefield. With the Frostbite-enabled Destruction 2.0 system, you can take down entire buildings and create your own fire points by blasting holes through cover. You can also compete in four-player teams in two squad-only game modes, fighting together to unlock exclusive awards and achievements.

Battles are set across expansive maps, each with a different tactical focus. The game also sees the return of the B Company squad in a more mature single-player campaign.
Features
•Squad Up: Compete as the lone wolf or together in 4-man squads with up to 32 players and multiple game modes including the all new Squad Rush!
•Defining Online Warfare: Become the master of land, sea and air on vast battlefields designed for wide open warfare on Ranked Servers.
•Intense Solo Campaign: Join Bad Company in a fight through deadly jungles, desert cities and vast arctic terrain on a mission to defuse WWIII.
•Tactical Destruction: Create new firing points, chip away enemy cover, and bring down entire buildings full of enemy combatants

Online Disclaimer
INTERNET CONNECTION, ONLINE AUTHENTICATION AND ACCEPTANCE OF END USER LICENSE AGREEMENT REQUIRED TO PLAY. ACCESS TO ONLINE FEATURES AND/OR SERVICES REQUIRES AN EA ONLINE ACCOUNT AND REGISTRATION WITH THE ENCLOSED SINGLE-USE SERIAL CODE. REGISTRATION FOR ONLINE FEATURES IS LIMITED TO ONE EA ACCOUNT PER SERIAL CODE AND IS NON-TRANSFERABLE ONCE USED. EA ONLINE TERMS & CONDITIONS AND FEATURE UPDATES CAN BE FOUND AT www.ea.com. YOU MUST BE 13+ TO REGISTER FOR AN EA ACCOUNT. EA MAY PROVIDE CERTAIN INCREMENTAL CONTENT AND/OR UPDATES FOR NO ADDITIONALCHARGE, IF AND WHEN AVAILABLE. EA MAY RETIRE ONLINE FEATURES AFTER 30 DAYS NOTICE POSTED ON www.ea.com.
Features:
Genres:
Tags:


4
This game is one of the best shooters of today. Many, many hours worth of gameplay with limitless possibilities in multiplayer. If you like games, look for the Battlefield 3 teaser... it arrives this fall. And will pwn you.

11
Definitely the most immersive multiplayer FPS to date. Very fun, hundreds of hours of content and nearly unlimited fun potential. Single player is lacking, and the multiplayer is somewhat imbalanced.